I don't recall if I've already written this in a post previously, but pork belly is like time travel to me. My grandma has always made pork belly for Christmas Eve, like many other Norwegians. Through Anthony Bourdain's shows, I have learned that everyone's favorite cook is usually their grandma. Now I'm not as lucky as many others, I don`t have a grandma that loves cooking up all kinds of beautiful dishes. She actually loathes cooking, and gladly admits it.
Once a year, however, she makes a meal that is quite special to me. Every year it's the same. Pork Belly, potatoes, and cabbage. Every year she warns us that it's not as good as last year, and every year it's the same. The same in a good way. The same in a way that it becomes time travel, to every Christmas Eve that has come and gone.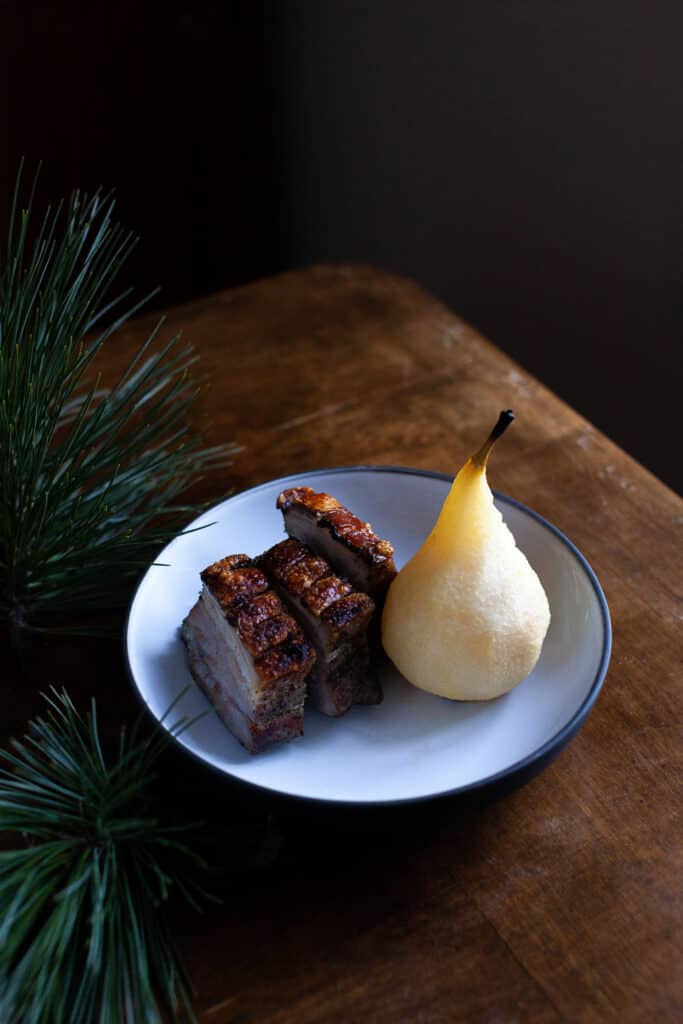 From this, I have taken the only lesson on cooking that my grandma is likely to give me. Keep it simple. Real simple. Especially when it comes to pork belly. It already has most of the elements you need in a good dish if you do it right. Crispyness from the skin, rendered flavorful fat and heaps of texture in the meat. The only thing you need is really just some acidity and you're good. Maybe a bit of sweetness as well.
This recipe isn't my grandmas (that will come at some point though). But it is just as simple and with all the same elements. In the end, you can serve whatever you want with pork belly, I don't really think people will pay much attention if the meat is done right. I'd be happy to just eat it off the bone with my hands any day.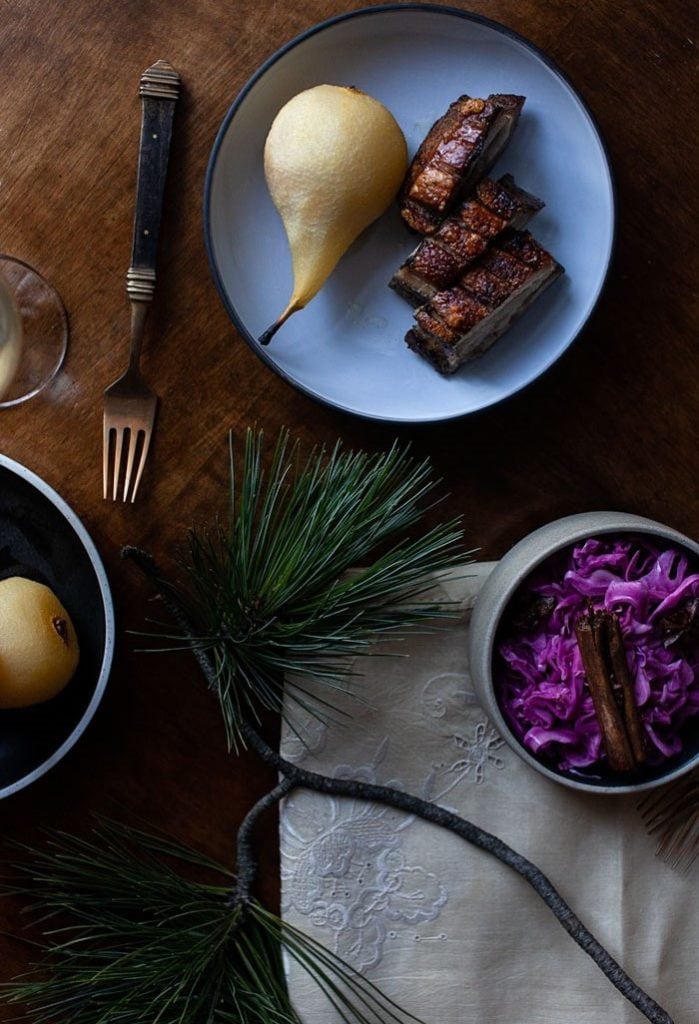 Pork Belly with Cider Poached Pear and Spiced Red Cabbage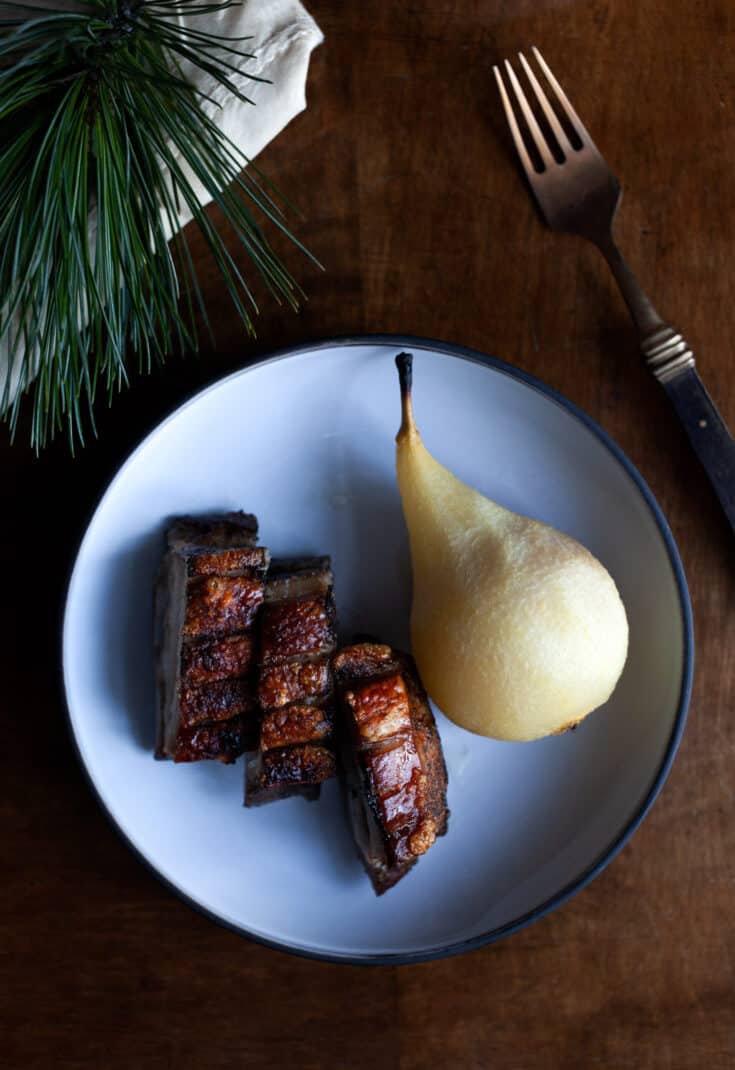 Ingredients
1 kg Pork belly
Salt & Pepper
2.5 L Water
2 Pears
4 dl Dry apple cider
1 dl Apple cider vinegar
0,5 dl Honey
1/2 Red Cabbage
2 dl Sugar
2 dl Vinegar
2 Whole Star anise
1 Cinnamon Stick
10 Whole cloves
Instructions
Score the pork belly skin, carefully not to cut the meat, into dice
sized squares. Rub with a handful of salt. To get optimal results you
can do this a day or two ahead and leave the meat in the fridge.
Heat the oven to 180°C. Rub the pork belly with plenty of pepper.
Pour 1 liter of water into a roasting pan. Place a small plate up side down in the middle of the pan, then place the pork belly with the skin side down on top.
Cover with tin foil and cook for 1 hour. Remove the tin foil
and turn the pork belly around and cook for another 30 minutes to an hour depending on the size of the meat. Every 10 minutes, spoon over some of the meat juices from the bottom of the tray.
Cut the red cabbage into thin strips and place into a jar. Boil 5 dl of water with 2 dl sugar and 2 dl vinegar. Add the star anise, cinnamon stick and cloves and simmer for a few minutes. Pour over the cabbage and leave to cool. You can either serve it after about 30 minutes or put it in the fridge and it will keep for a few weeks.
Bring 1 liter of water, apple cider, apple
cider vinegar, honey and a pinch of salt to a simmer. Peal the pears
and leave to simmer for 30 minutes. Transfer to a tray lined with
parchment paper and put it in the oven at 180°C for about 10 minutes to give them some color.