Camembert is a soft cow`s milk cheese originating from Camembert in Normandy in the north of France.
Baked Camembert is the perfect appetizer or hearty dessert, and pairs perfectly with Chardonnay or a light-bodied red wine like a Pinot Noir.
In the not so distant past, most cheese snobs would tell you that a good Camembert could only be made in France, but today you can find amazing local varieties almost anywhere.
Head to your local cheese shop and ask around, and you might be surprised by the selection of local cheeses available.
For this recipe, we used a Camembert from Eiker Gårdsysteri, a local farm only a few hours from Oslo that produces fantastic cheese.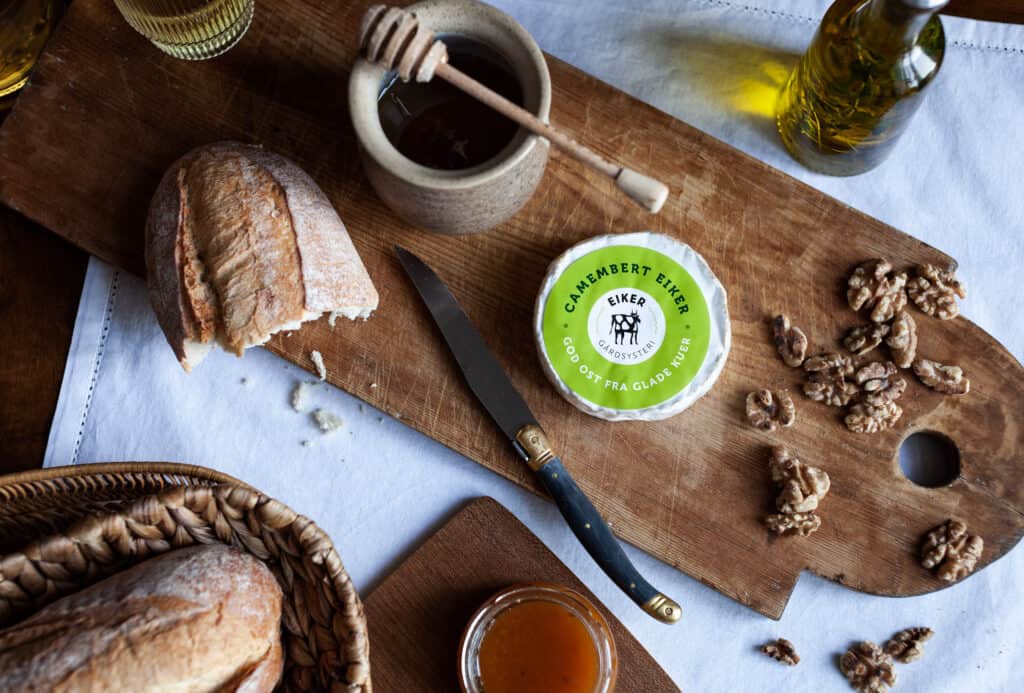 What to serve with baked camembert
In this recipe, we will bake the Camembert and serve with a variety of spreads, and a fresh baguette, but feel free to experiment with different toppings.
Below are a few ideas on what to serve with Camembert:
Jams and marmalades of all kinds
Honey!
Caramelized onion
Fruits, berries & nuts
Bread & crackers
Dried & smoked meats
Fresh herbs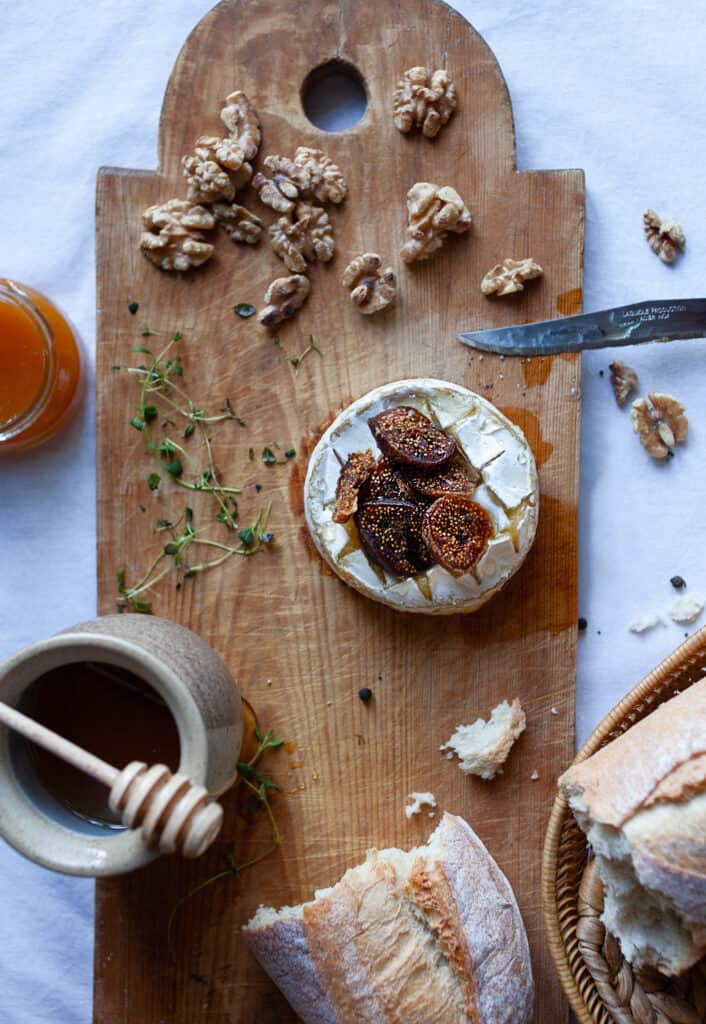 What to drink with baked camembert
White wine generally pairs best with camembert, as you want a good amount of acidity to cut through the fat of the cheese.
Dry light-bodied, fruity wines like Chardonnay or Chenin blanc are classic choices to go with Camembert. If you prefer bubbles, you can't go wrong with Brut Champagne or Cremant.
A less common, but still delicious choice is a light and fruity Pinot Noir or similar red wine.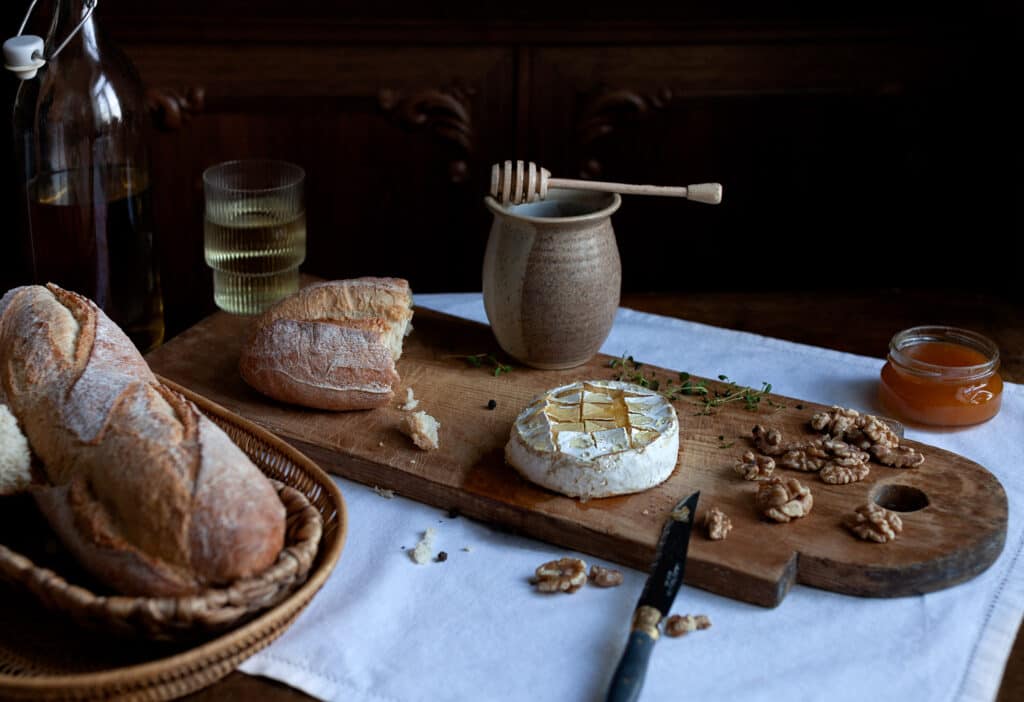 Baked camembert with caramelized onions, Honey, or Jam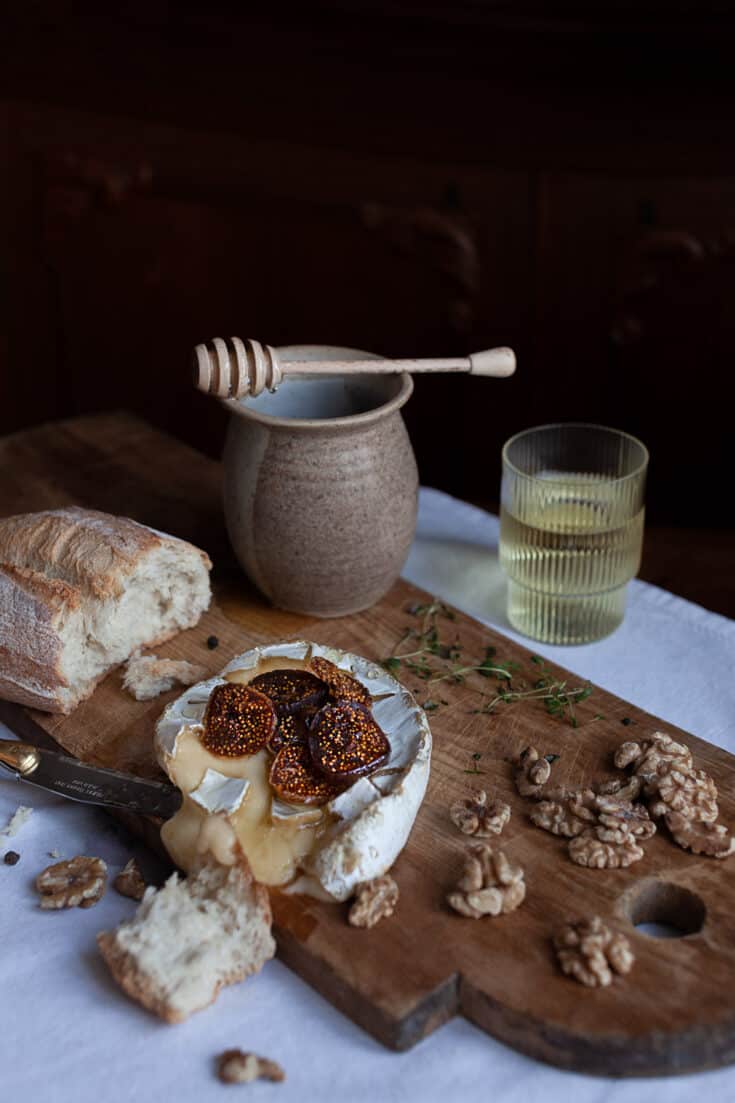 Feel free to be creative with toppings. We went for one sweet and one on the slightly more savory side.
Ingredients
Camembert
Honey
One large, yellow onion
Olive oil
Thyme or Rosemary
Dried or fresh figs
Walnuts
Instructions
Preheat the oven to 180C / 360F
Cut the onion into fine slices and sautée in a frying pan over medium heat for about 20 min with a splash of olive oil.
Score the rind of the cheese and drizzle one with olive oil, thyme, salt, and pepper. Drizzle the second one with honey.
Bake for 20 minutes until gooey and soft.
Serve with assorted condiments, a fresh baguette or bread, and lovely glass of fine wine! Bon appetite!
Nutrition Information:
Yield:
4
Amount Per Serving:
Calories:

700