Smoked salmon is one of the best and easiest ingredients to cook with ever. Well, it's almost not cooking even, it goes well with such a huge range of other ingredients, so you're basically just putting things that taste good together.
How to serve smoked salmon as an appetizer
In this smoked salmon appetizer recipe, we are just putting some classic flavors that work well together on a piece of bread. They are perfect for events or parties, and only take a few minutes to put together. Dill, chives, mustard, honey, capers, and arugula is kind of just the greatest hits of what works well with smoked salmon.
We paired the smoked salmon with a glass of chilled rose, and it was the perfect summer appetizer combo.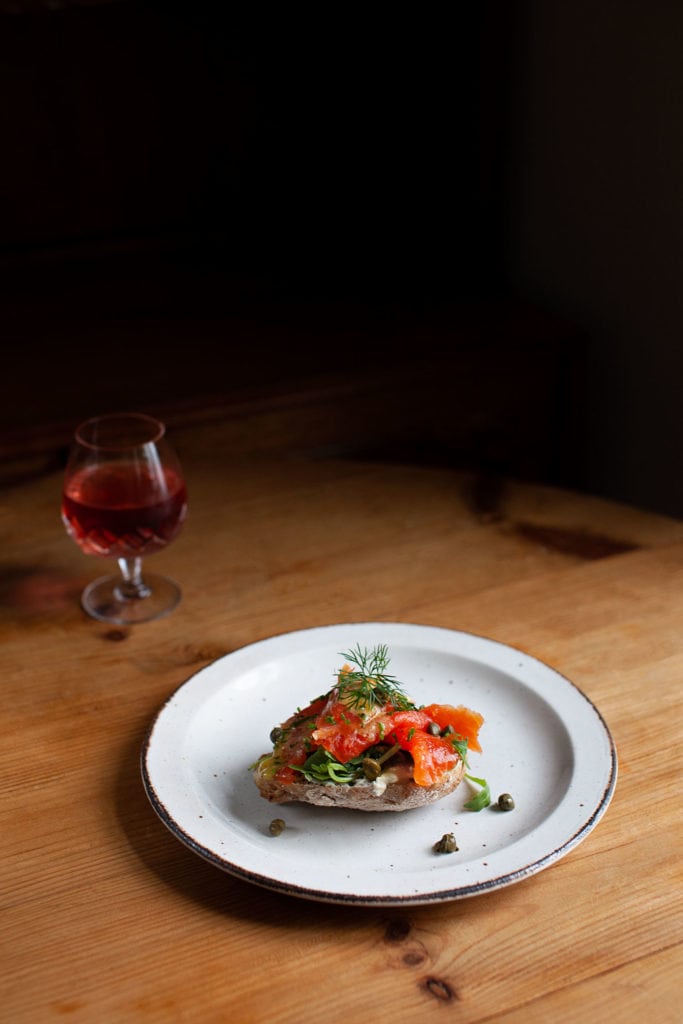 Where to buy smoked salmon
So being from northern Norway, smoked salmon like many other local foods is almost a currency in itself. Even if we have great access to wild salmon, it is still expensive in the stores here, like everywhere else.
We get much of our smoked salmon from our parents back north, we again get it from their friends or contacts. It's just how things work in northern Norway, especially with fish. A few times a year we get care packages sent to use with smoked salmon, dried mushrooms and berries of all sorts. We're lucky, we know.
If you can't get naturally sourced smoked salmon, I would still recommend making an effort to see what available choices you have. Your local fishmonger will probably help you out if you ask. The kind you get for "cheap" at the store is probably going to be bland factory farmed salmon.
Smoked Salmon Appetizer Bites with Mustard Vinaigrette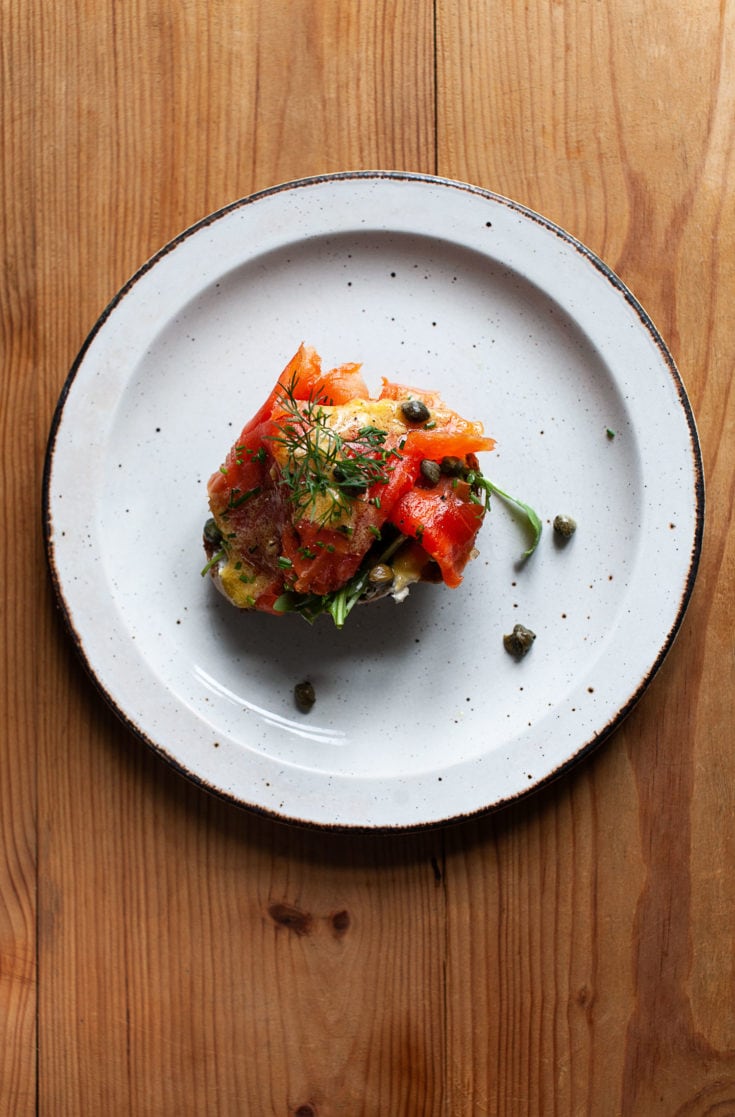 Super easy to make smoked salmon appetizers. Perfect for events and parties.
Ingredients
Almost any kind of bread. We used whole wheat bread rolls
Smoked Salmon (2 Thinly sliced pieces per bread roll)
Arugola Salad
Capers
Fresh Dill
Fresh Chives
Salt & Pepper
Cream Cheese
1 Garlic Clove (minced)
1 Tbsp White wine vinegar
1 1/2 Tbsp Dijon Mustard
1 Dl Extra Virgin Olive Oil
Instructions
Prepare the bread. You can use any type of bread you like here. Whole wheat bread rolls worked great but a sliced baguette will be great as well.
Mix the garlic, vinegar, mustard and a bit of salt & pepper, then slowly add the olive oil while whisking to emulsify.
Top the bread with creme cheese, then arugola, the smoked salmon, mustard vinaigrette, fresh herbs, a pinch of salt & pepper and capers.