Fish and chips might be the most British dish there is, but we Norwegians know a thing or two about fish and potatoes as well. In this recipe, we took the pub classic and slightly "Norwegified" it with fried new potatoes and remoulade.
The Atlantic Halibut is a northern Norwegian staple that we all remember from growing up, often enjoyed at Christmas or other special occasions. Traditionally served with boiled potatoes, remoulade, and a pickled cucumber salad. That version will definitely make its way to the blog in the future, but this time around we opted for a beer-batter, fried potatoes, and pickled red cabbage one instead.
The Atlantic Halibut is the world`s largest flatfish and back home it has almost become the stuff of legend amongst local fishermen due to its enormous size! The biggest Atlantic Halibut ever caught was near Norway and is said to weigh in at almost a quarter of a ton.
A big thing about Northern Norwegians is not overpaying for fish, and here in Oslo prices for fresh Halibut can get quite high, but we are lucky enough that Daniels dad occasionally sends us parcels of frozen fish by mail, that he either catches himself or buys from local fishermen back in Tromsø. But if your not that lucky, you should ask your local fishmonger for either fresh halibut or any good alternative such as Cod, Turbot, Haddock, or Striped Bass.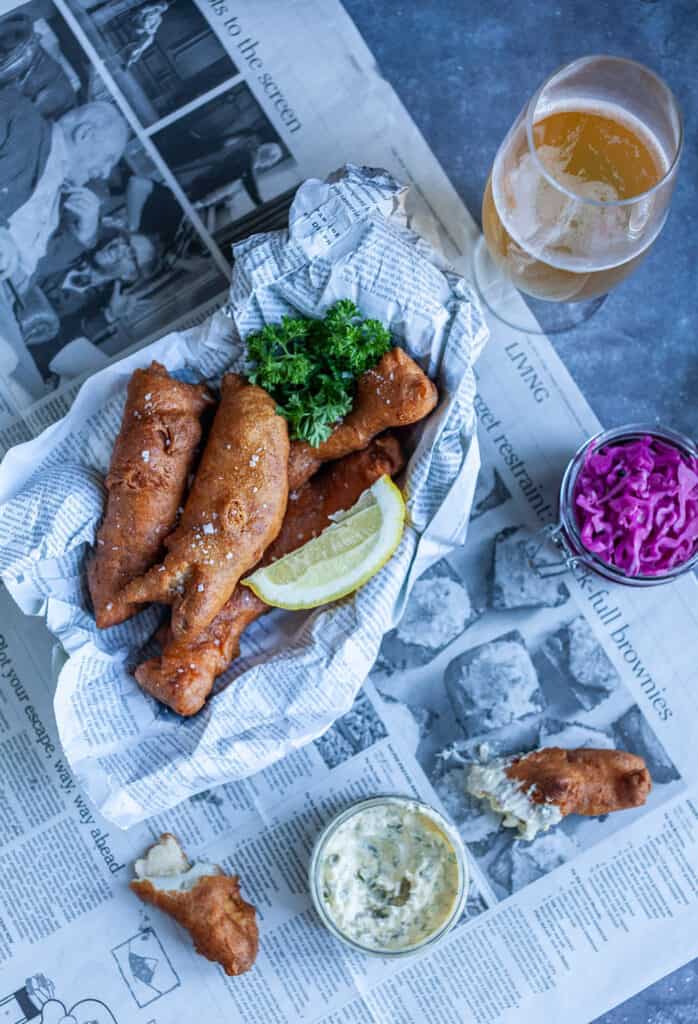 Easy Beer-Battered Halibut with Homemade Remoulade and New Potatoes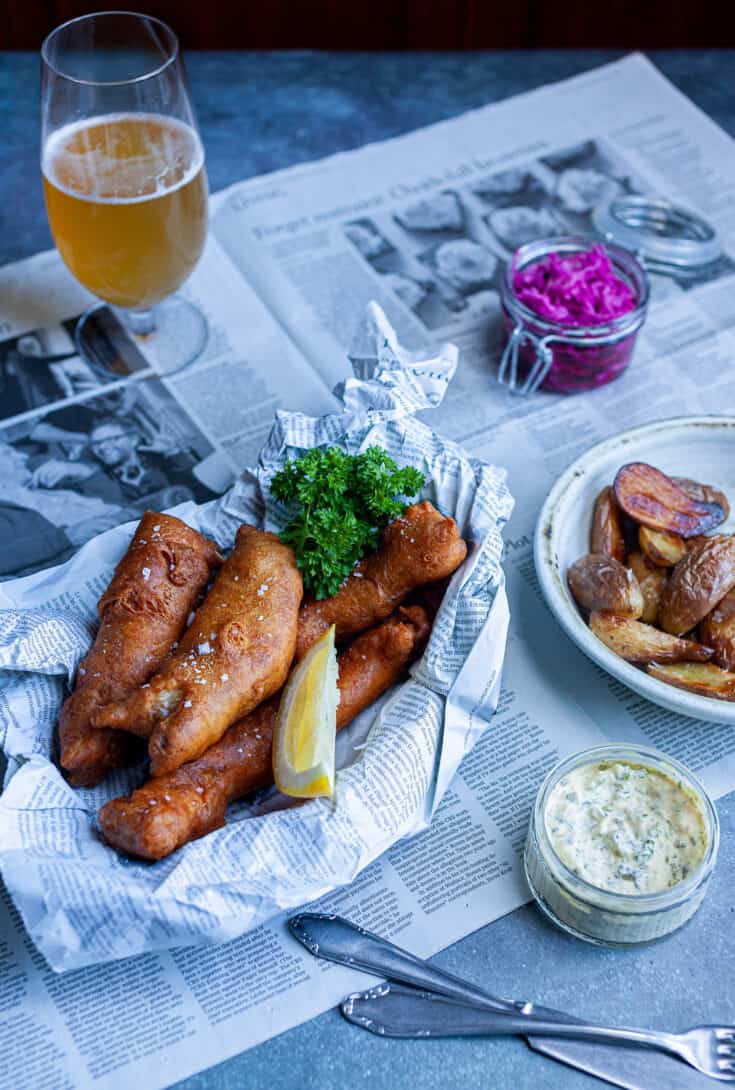 Ingredients
500g / 1,1lb Halibut
200g plain flour / 1¼ cups
2 1/2dl / 1 cup beer (lager)
3 heaped tsp baking powder
vegetable oil
salt
pepper
600g / 1,3lb potatoes
parsley
lemon
1 egg yolk
1 tsp Dijon mustard
2 dl / 0,8 cups olive or vegetable oil
3 finely chopped small gherkins
1 finely chopped shallot
1 heaped tsp capers (chopped)
half a red cabbage
1l / 4,2 cups water
2dl / 0,8 cup sugar
1dl /1,4 cup vinegar
Instructions
For the pickled red cabbage (this can be done in advance): fill a large mason jar with finely diced cabbage. Bring the water to a boil, and stir in the vinegar and sugar until it dissolves. Pour over the cabbage and leave until it has completely cooled down. Tighten the lid and place it in the fridge until you want to use it.
Preheat the oven to 225C / 425F. Cut the potatoes in half (leave the smallest ones whole), rinse them quickly, and put them on a tray in the oven for a couple of minutes until all the water has evaporated and the potatoes are dry. Drizzle with some oil and sprinkle with salt and toss to properly mix. Bake for 30-40 min.
For the remoulade: Put the egg yolk and mustard in a bowl a mix with a hand mixer while pouring the olive oil veeery slowly into the mix. Be very careful about the amount of oil you use while adding, if you take it too far, the mixture will split and become runny. This can take some practice so you might want to skip this homemade version, and just go for the store-bought one. Thin out with water from the Gherkin jar if it turns out too thick. Add the gherkins, capers, and shallot.
When it comes to white fish in most cases, you`ll want to pin bone it, but for Halibut you can leave in some of the large bones as they have fat deposits around them that will add to the flavour during cooking, and are easily removed afterwards. Place the fish on some kitchen paper, sprinkle with salt and cover with more paper to dry it out. The dryer the fish is before frying, the more of a meaty quality it will have.
Heat up the oil to 190C / 375F in a large pot or deepfryer.
Mix beer, eggyolk and bakingsoda in one bowl, and flour in another. First coat the fish in the flour, then the other mixture and fry for 4 minutes in the oil.