Lamb is often thought of as a traditional Easter dish, to be enjoyed in spring. But lamb are born in the spring, and the best lamb is available around late summer and early autumn.
Not only does lamb have great flavor, but also texture that goes well with all the other great produce that is in season in the autumn. So for this dish, we combined some of our favorite ingredients that ended up being a great play on texture. Tender lamb with a slight grain, perfectly smooth sweet potato mash with roasted crunchy pecans, fresh arugula salad with figs and pecorino cheese, pickled red onions and gravy.
There's nothing like a whole roasted leg of lamb, but lamb leg steaks are just as delicious and much quicker to prepare if you don't have the time for a whole leg. Garlic, thyme, and rosemary are pretty much the staples when cooking leg of lamb, and the same goes with the steaks. Toss the herbs and garlic in the pan when roasting, or marinate the meat beforehand and it will soak up all those flavors.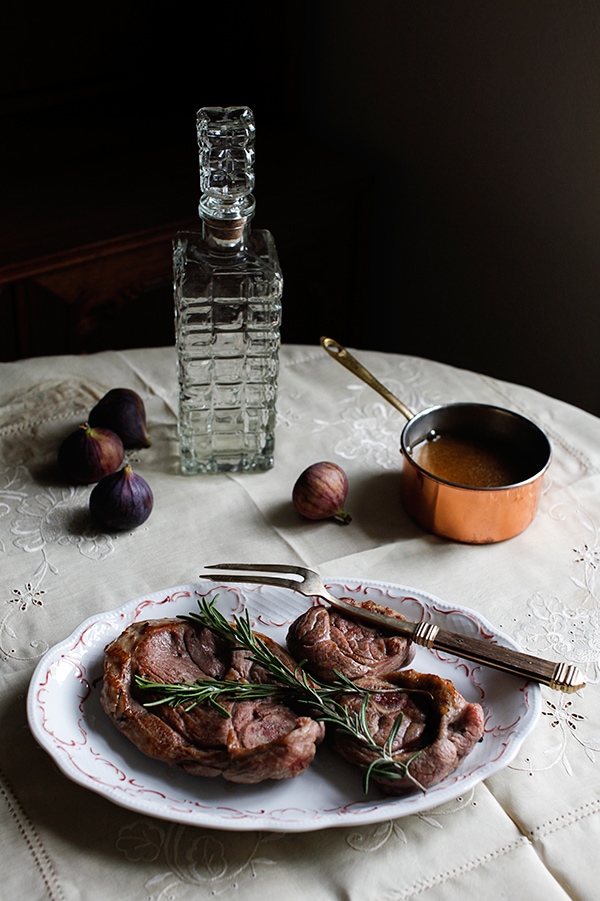 Sweet potatoes are another great autumn ingredient that you can't go wrong with. Turning them into mash is minimal work and will concentrate the flavors. Top them with some roasted pecans which will add some crunch to the dish, as well as a great aroma.
Now that we've got two hearthy fillings down, it's time to add a bit of freshness. A simple salad will go a long way, and since we had gotten some great figs, we thought they would pair well with some Pecorino di Talamello. (which we talked a bit more about in our Chanterelle Risotto recipe.)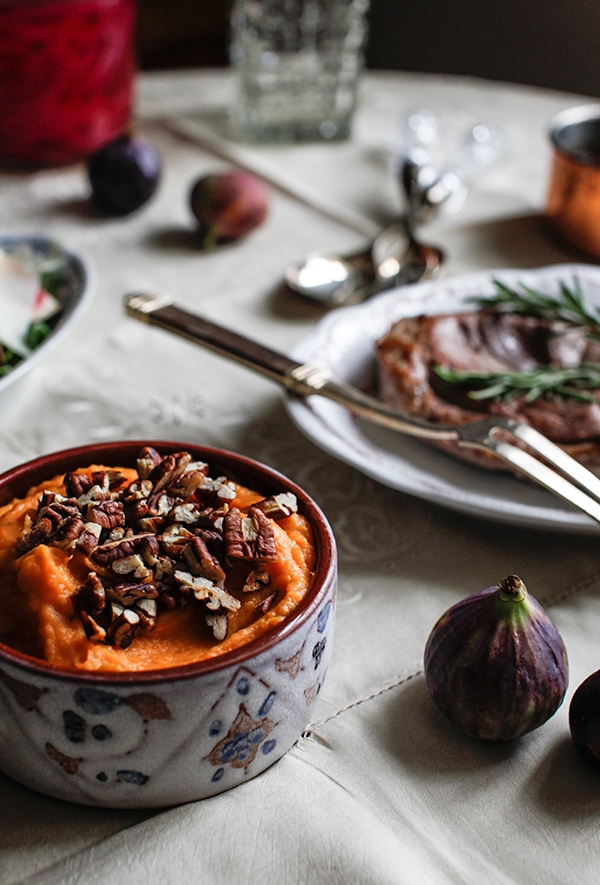 Now just one element remained. Pickled red onions. To be honest we've been having it with pretty much everything lately. In burritos, on pizza, etc, so of course it had to go on the table for this dish as well.
It all came together perfectly, and it ended up being one of my favorite dishes that I've made in quite some time. It made me think a lot about texture and balancing flavors since it had so much of it. So for upcoming posts, I will try to keep this in mind more than I have in the past.
Lamb Leg Steak with Sweet Potato Mash & Fig Salad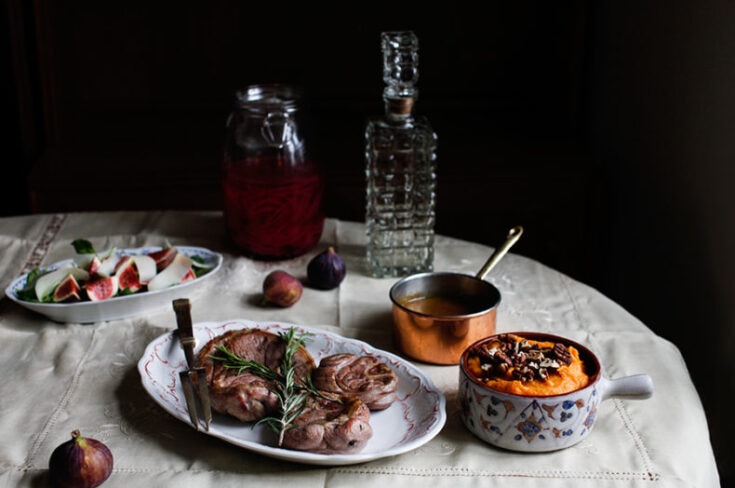 Ingredients
Lamb leg steaks
4 cloves garlic
Thyme
Rosemary
3 Bay leaves
Salt & pepper
Olive Oil
2 big sweet potatoes
Butter
Heavy cream
5 ripe figs
Pecorino or parmesan cheese
2 handfuls Arugula
Extra virgin Olive Oil
Lamb bones (optional)
Meat stock (optional)
2 tbsp flour
Red Onions
10 dl water
2 dl White wine vinegar
2 dl Sugar
Instructions
The pickled red onions can be made quickly in advance. I usually will
make a big batch as we eat it a lot in our house. Fill a jar with sliced
red onions. Then fill the jar with boiling water, vinegar and sugar.
Most recipes use 3 parts water, 2 parts sugar and one part vinegar. I
think this tends to be a little bit too sweet and like to reduce the
amount of sugar a bit and add a bit more vinegar. Try different amounts
and find out what you like.
The stock for the gravy should also be made
in advance if you want to remove the fat from the stock before making
the gravy. You can skip this part and use premade stock instead. I asked
my butcher for some extra lamb bones to make the stock. Heat the oven
to 200°C. Put the bones in a roasting tray and brush with some olive oil
and roast for about an hour, turning them until evenly browned. When
browned all over, add water to cover the bones, 2 garlic cloves, a few
sprigs of thyme and rosemary, bay leaves, a few peppercorns and a pinch
of salt. Now you can either transfer to a pan or put it back in the oven
to simmer for a couple of hours or until you're happy with the flavor.
Pass through a fine sieve and refrigerate until the fat has risen.
Remove fat with a spoon.
Put the meat in a sealed bag
overnight, with garlic, rosemary, thyme, salt and pepper and a few
spoonfuls of olive oil. Rub the bag occasionally.
Preheat the oven to 180°C.
Melt a knob of butter in a hot pan and add a whole garlic clove, a
sprig of rosemary and a sprig of thyme, then add the meat. Reduce to a
medium heat and cook for 2-3 minutes on each side. Transfer to a
roasting tray and cook in the oven for 10 minutes. Save the herbs and
garlic for the gravy.
Peel and dice the sweet potatoes. Boil until tender and strain. Add a knob of butter, a pinch of salt and heavy cream. Mash with a masher or blender until creamy and smooth.
Roast pecans in a hot dry pan for 30 seconds and add on top.
In a small pan add a knob of butter and melt until slightly browned. Add the flour while whisking. Let the mixture get a nutty brown color before adding the stock and the garlic and herbs that you used when cooking the meat.
Boil for a couple of minutes while whisking occasionally.
Toss arugula with some extra virgin olive oil and top with figs cut in quarters.
Shave cheese on top. Serve and enjoy!