The first pasta I ever made at home was gnocchi. It helped demystify the art of making homemade pasta for me, and it helped me understand something vital about Italian cuisine. You see, I had thought that making gnocchi or any kind of pasta was very hard and very time-consuming. It is neither. Like almost all Italian food, it is actually quite simple. Not easy, but simple, which is not the same at all.
The very first time I attempted to make gnocchi, I succeeded in making gnocchi. That's to say it wasn't the greatest gnocchi ever made, to most Italian standards it was probably even pretty bad. Still, it tasted good, much better than the premade stuff from the store.
The point I am getting at is that Italian food might be simple to make, but it is very difficult to master. A point proved by the fact that every Italians favorite cook is their nonna (grandma), or so it certainly seems. Because what do nonnas have that we as novices of Italian cooking don't have? Experience. Tons of it.
We might never become masters of rolling pasta like the nonnas, but I'm damn well going to continue to try. Things don't have to be perfect to be good, and when I want perfect I'll save up and take a trip to Italy.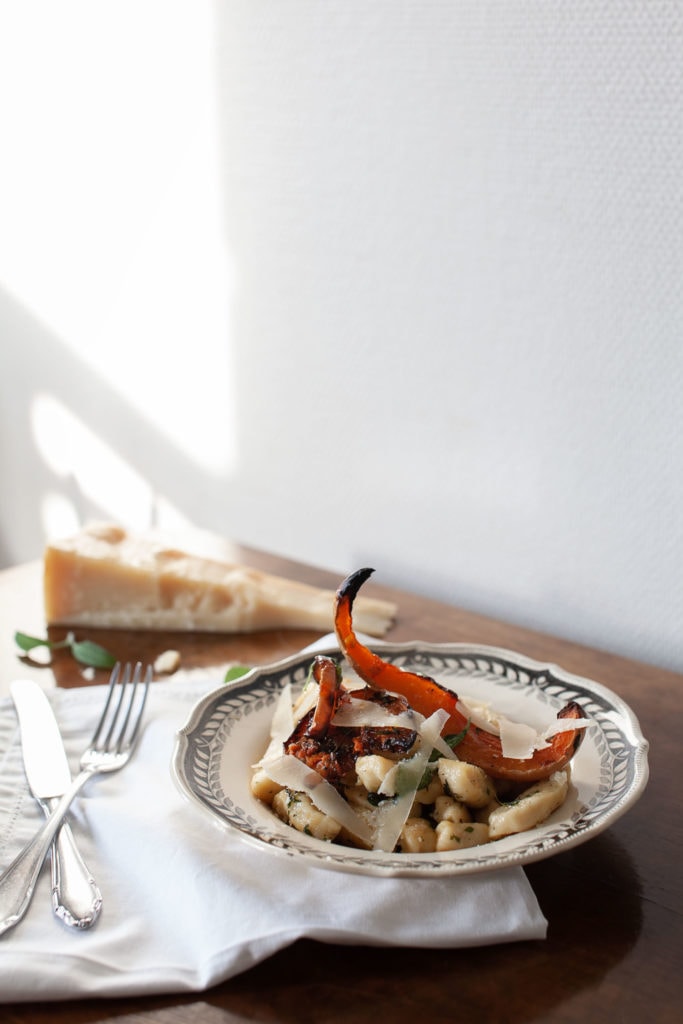 For this gnocchi recipe, we relied on classic flavor combinations with roasted butternut squash, sage, thyme, and parmesan cheese.
Yield: 4 Servings
Gnocchi, Sage & Butternut Squash Recipe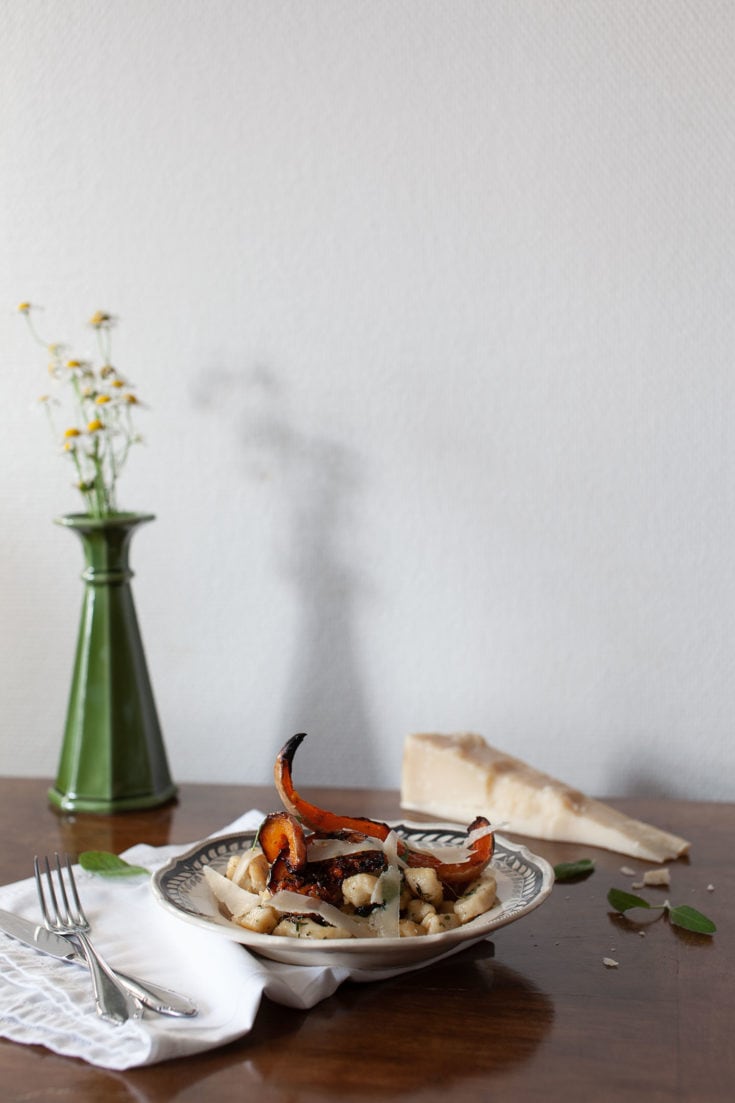 A perfectly simply combination of classic flavours.
Ingredients
4 Medium Sized Potatoes
10dl / 4 Cups All-purpose Flour
2 Eggs
1 Butternut Squash
Fresh Thyme
Sage
Olive Oil
Pecorino Cheese
2 Garlic Cloves
Salt & Pepper
Instructions
Preheat the oven to 400f / 200°C.
Cut the butternut squash however you want. I chose to leave the skin on and cut lengthwise but you can do whatever you want here. Cubes, slices or even just cutting them in half.
Coat with olive oil and sprinkle over salt. Rub a handful of thyme and 5-6 sage leaves on the flesh of the butternut squash, and leave the herbs on top. Put them in the oven and roast until the flesh is tender and the edges are slightly burnt.
While the butternut squash is roasting, bring a pot of salted water to a boil. Peel the potatoes and cook until tender.
Drain the potatoes and leave to let the moisture evaporate for a couple of minutes, and mash the potatoes. You can use a potatoe masher but I prefer a fork as it is easier to keep the mash light and fluffy.
Combine the potatoes, eggs and flour and knead to a dough. Don't overwork the dough. Seperate the dough into handful sized balls and work into cylinder shapes. Cut the cylinder into small gnocchi sized pieces. You might want to cut them a bit smaller than you think because they will expand slightly when cooked. This part takes some practice to get perfect.
Now bring a large pot of salted water to a boil again. Drop in the gnocchi, you don't want to crowd the pot so it's better to do it in 2 or 3 rounds. Just as the gnocchi rises to the surface, they are finished. Drain and set aside.
In a frying pan, melt a knob of butter over a medium heat. Crush the garlic cloves and add to the pan with a small handful of sage leaves and thyme. When the butter is starting to turn slightly brown and nutty, add the gnocchi and cook for a few minutes until golden.
Top the gnocchi with the roasted butternut squash and parmesan or pecorino cheese.
Notes
Gnocchi and cheese go very well together. Almost every combination is a smash hit!